Overview
This time around around we will be looking at the 3 most common domestic heating and hot water systems across the UK, gravity fed, unvented and condensing combination boilers. By the end of this blog you should have a better idea of what set up will best suit you and your family needs so that you can make a more informed choice when choosing which is right for you.
Gravity Fed (Open Vented) System
This is still a very common system usually used in conjunction with heat only boilers found throughout the UK and whilst it has stood the test of time and has been a generally reliable system, however it does have numerous drawbacks when compared to more modern systems. An open vented system uses gravity to feed both the heating and hot water generally resulting in poor water pressure from both hot and cold water outlets, this is because the cold water storage tanks are usually in the loft and the hot water cylinders are in airing cupboards which doesn't leave much head of pressure resulting in the poor water flow from the hot and cold outlets.
Because the system is open vented its open to the atmosphere which can lead to air locks and also makes them more susceptible to the build up of magnetite (black sludge) within your radiators, pipework and more importantly your boiler. Another factor to consider is that your cold water store is essentially just a tank full of cold water in the loft, even with lids on these collect debris and form a slime at the bottom of the tank (this is what you bath and brush your teeth in).
One plus point is that these systems have an electric immersion element fitted in the hot cylinder as a back up should the boiler fail, meaning that you would still have hot water across all outlets. The picture below demonstrates the typical set up of a gravity system.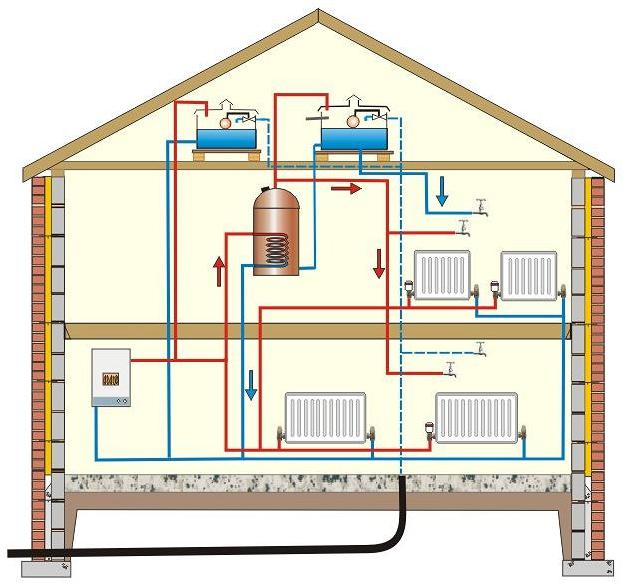 Unvented Cylinder
This system is similar to a gravity set up in that it has a cylinder, however it is far superior in what it can deliver and they work well with with condensing system boilers, they can also be used in conjunction with combi boilers but you will need an experienced engineer to go down that route. This system does require a minimum 3 bar incoming mains water pressure and a approximately 20 litres per minute to work correctly. If installed correctly with the correct water pressure it will deliver an equal 3 bar of pressure across all hot and cold water outlets, meaning that if you have 2 or 3 showers running simultaneously none of them will suffer pressure loss resulting in know one getting a hot or cold blast when another outlet is opened.
This system is closed to the atmosphere making it a sealed system and it is pressurized reducing and in the main removing the problem of air in the system. It will deliver your heating much faster than a traditional open vented system, give you good water pressure across all outlets and also has an electric immersion element in the event that your boiler fails.
These systems are better suited to larger properties with multiple bathrooms and can handle large heating systems. If you were planning to extend your house and add bathrooms and radiators this would be a good choice to make to cater for the demand. The only downside of the unvented system is that like the gravity system it does take up more room as the cylinders are generally quite large and they also require an external expansion vessel unless its built in. The below diagram shows a common unvented set up.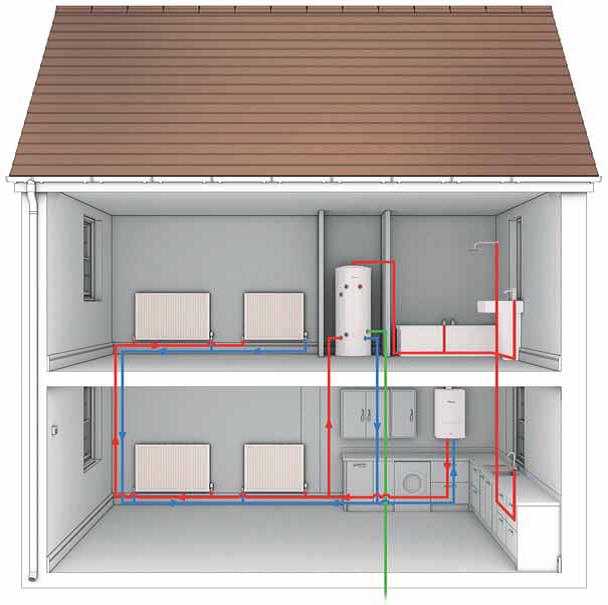 Condensing Combination Boilers
This is fast becoming the most popular option for most 1 to 3 bedroom houses across the UK. Its a sealed system meaning its pressurized and not open to the air but it does need a minimum flow rate of water to operate correctly, most combi boilers need a minimum of 12 litres per minute. There is a common misconception that by installing a bigger kw combi boiler it will improve your water pressure, this is not the case for instance if you have 12 litres per minute flow rate a 24kw or 26kw is the boiler that you would need unless you had over 10 or 12 radiators, then you would need a bigger kw boiler of around 30kw but that would still only heat your water at 12 liters per minute which would mean the hot water side would be less efficient because the internal heat exchange requires a larger flow rate of water.
Another thing to consider with a combi boiler is that unless you have a high incoming flow rate of 18 to 20 litres per minute which can match a 40kw with a high flow rate then you can realistically only run one shower off of it at a time, even with a 40kw that has a larger heat exchange and a higher incoming flow rate it may still struggle to power 2 showers simultaneously.
Despite the flow rate limitations the combi boiler is still an ideal solution for most smaller households with 1 to 2 bathrooms and between 10 to 15 radiators. It will heat your home incredibly quickly compared to an old gravity system and give you almost instant hot water across all outlets. A new condensing combination boiler is very efficient and cost effective if sized properly. It also takes up far less space than other systems as you can be located in a cupboard, garage or loft space.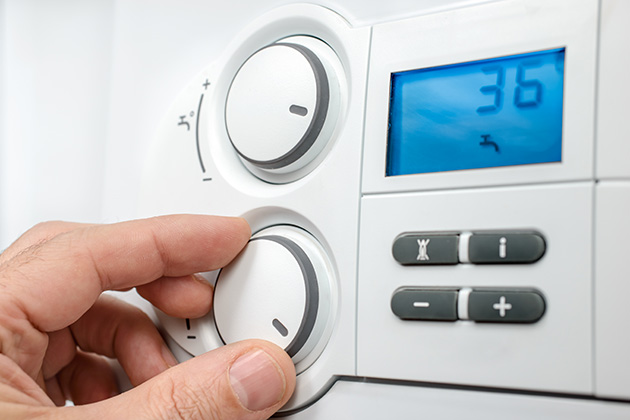 In Conclusion
This is just a brief guide into what these systems are and how they operate, but before making any decisions on what system is right for you, your family and home speak to a qualified heating engineer who should be able to design and recommend the correct solution for you and your future needs.
For more information on heating and hot water systems get in touch and let us help you in making the right choices and designing a system. We serve in and around the Snodland, West Malling, Halling, Vigo and Aylesford areas.