Unvented Cylinder Installation Service Based in Larkfield, serving the surrounding areas
Advantages of an unvented cylinder installation
Unvented cylinders can provide you with a range of benefits when installed in your home:
Maintain hot water pressure
As an unvented cylinder is supplied directly from your cold water feed, the mains pressure is maintained, unlike other alternatives. This is a great option for those who want to have their hot water pressure maintained consistently.
Save space
As an unvented cylinder does not require a feeder tank, unvented cylinders are a great way to save on space and give you room for more important things in your home.
Less noisy
Unvented cylinders are much less noisy when compared to other alternatives (vented cylinders).

Long-lasting and reliable
Provided you opt for a reputable installer, unvented cylinders can last up to and over 30 years, meaning that these systems are robust additions to your central heating system that will be a reliable source of hot water for years to come.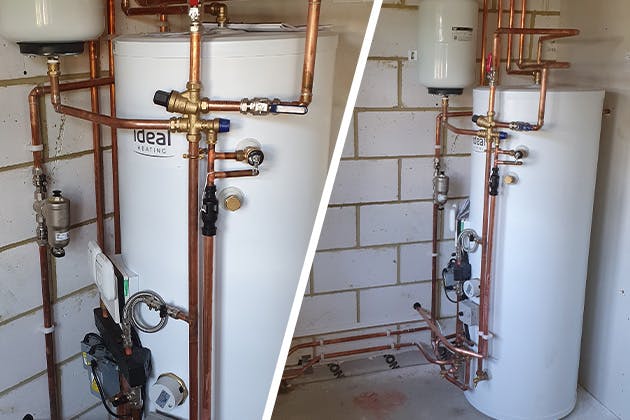 Is an unvented cylinder right for your property?
Unvented cylinders work well in a range of different homes and are an excellent way of providing hot water throughout your property. There are a few ways to find out if an unvented cylinder is ideal for your home. The first and simplest way is to contact us, and we'll be happy to discuss whether or not an unvented cylinder will work for you. Unvented cylinders are highly recommended for the following applications:
Larger homes with multiple bathrooms
Unvented cylinders are ideal for larger homes with many bathrooms that are likely to be in use at the same time. This is because the pressure created inside the water tank keeps the water pressure in your home constant.
Homes that need additional room in the loft
If you are considering upgrading from a vented cylinder, an unvented cylinder can help you save space. Vented cylinders rely on gravity to transfer water from your cold water tank to your heating tank. Unvented cylinders connect directly to your mains water supply and use an energy source (gas, electricity etc.) to heat up your water. If saving space in your loft is important to you, then an unvented cylinder is a great option.

Get in touch for a free quote
If you're looking for a free no-obligation quote, or just want to ask us for our professional advice, we'd love to hear from you! Get in touch by giving us a call on 07534 907893 or by sending us a message directly through our website's contact form.